Hospitality and Executive
Packages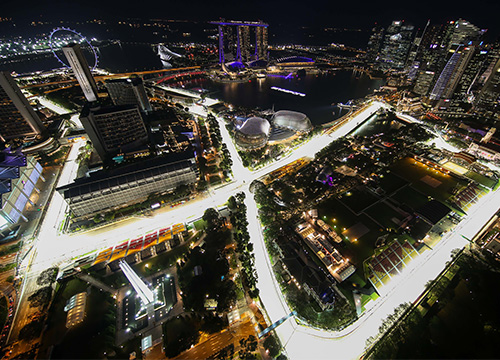 What to expect?
As we embark on a new term to host the Formula 1 Singapore Grand Prix in the Republic for four more years, Singapore GP is thrilled to present brand new experiences, enhanced offerings and our trusted brand of premier trackside hospitality at the Marina Bay Street Circuit.
Singapore's glitzy annual affair returns this 20 to 22 September 2019* with a breathtaking combination of sights, sounds and electric atmosphere set against the backdrop of a stunning city skyline.
For a quintessential race experience that is second to none, take your pick from five specially-designed hospitality facilities ideal for networking with key decision-makers, creating new business opportunities and rewarding associates whilst catching one of the season's most dramatic races from the comfort of our signature trackside suites.
Choose from the Formula One Paddock Club™, Sky Suite, Twenty3, The Green Room and Lounge@Turn 3 - each offering a unique world-class hospitality experience at the home of Formula 1 night racing.
With non-stop action and a stellar entertainment line-up throughout the three-day race weekend, you'd be hard-pressed to pick your favourite part of the evening.
Hospitality information
Explore the hospitality options available at the
FORMULA 1 2019 SINGAPORE AIRLINES SINGAPORE GRAND PRIX here.
Please note that access is password protected.
REQUEST A PASSWORD
Please register with the following details and a password will be sent to your email address within one working day.
Thank You
We will be in touch with you soon.