Press Release
Don't miss the latest news of the Singapore Grand Prix.
FORMULA 1 2018 SINGAPORE AIRLINES SINGAPORE GRAND PRIX Race Day's Lap-By-Lap Highlights
Lap 1: Good start by Hamilton, Vettel gets ahead of Verstappen just in time before the Safety Car is deployed: Esteban Ocon clashes wheels with his Racing Point teammate Sergio Perez and the French driver ends up in the wall and out of the race. Third year in a row the Safety Car is called out on the opening lap - and the 100% record in Singapore continues. 'Sorry guys,' says the Mexican, 'there was no room. I just did not see him.' 'I got hit by Sergio,' says Ocon, 'badly, badly, badly.'
4: Sirotkin brings his Williams in to have debris removed from the front wing, changes tyres too to the yellow-walled Softs; radio message from Verstappen suggests he is again unhappy with his power unit as it goes into neutral between gear shifts. 'No further action' in Ocon-Perez incident.
5: Hamilton gets away quickly when the Safety Car goes in, pursued by Vettel and Verstappen with Bottas, Räikkönen and Ricciardo next. How long will the Pirelli Hypersoft pink-walled tyres last? Hamilton is 1.1s ahead at the end of the lap.
6: Hamilton still out of DRS range for Vettel - who is, however, in DRS range to Verstappen behind him until the Ferrari driver picks up the pace with two fastest sectors on the following lap. Hamilton responds with the fastest lap so far to ease clear of Vettel again as the 19 cars remaining are strung out around the 5.063-km track.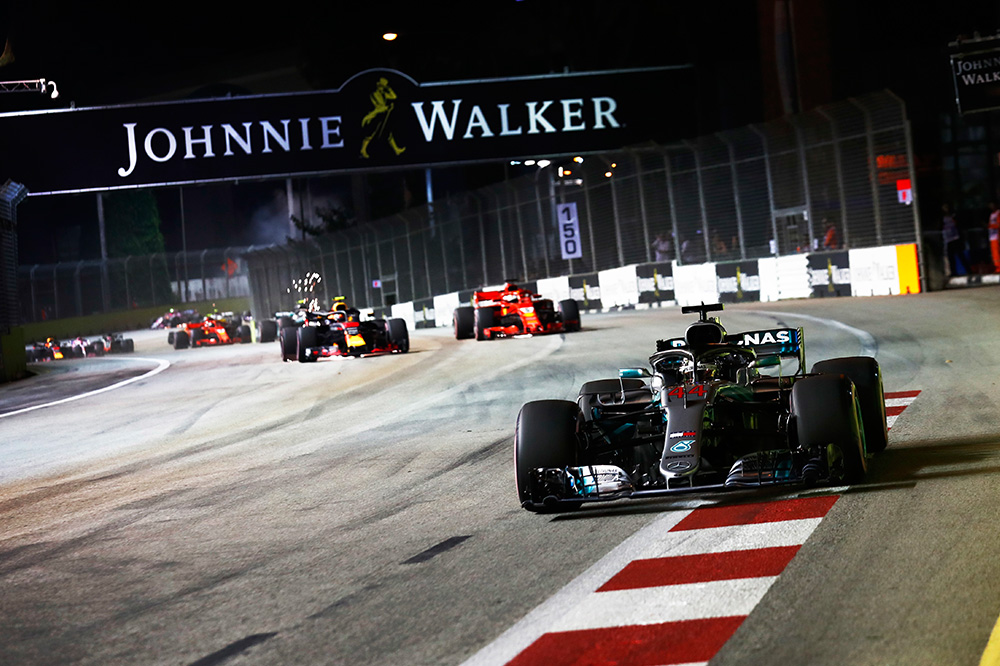 9-10: Hamilton now leads Vettel by 1.2s as a happier Verstappen reports that the Red Bull is good; the pit stop window for those on Hypersofts now looms, Pirelli's suggestion being a 13-lap maximum stint before switching to Softs for the rest of the race.
11: Who's bluffing whom? Ferrari tell Vettel Hamilton has complained that there is a lot left in his tyres, Sebastian says, 'I don't believe him.' Lewis then seems to prove the German wrong as he sets the fastest lap of 1:45.502 and goes 1.7s clear of Vettel. His lap record is 1:45.008.
13: As pit stop time approaches there is a new lap record of 1:44.929 for Hamilton - how low will it go in the course of tonight's 61 laps?
14: Ferrari bring Vettel in, on to the Ultrasoft purple-walled tyres, and he rejoins with a clear track; meanwhile Hartley also brings the Toro Rosso in; Mercedes respond by bringing Hamilton in next time round and on to the yellow Soft tyres, suggesting they think a one-stopper is possible. Do Ferrari think otherwise? Hamilton rejoins ahead of the Ferrari, which has Perez's Racing Point Force India in front of it, as Verstappen temporarily leads.
17: Bottas and Grosjean have also been in; Verstappen now comes in from the lead and Red Bull copy Mercedes by putting the Dutchman on to Softs. Amazing result as Verstappen comes out and belligerently remains ahead of Vettel, who is on the faster tyre. 'Yes!' barks Max.
18: Räikkönen and Ricciardo, both yet to stop, are now first and second ahead of Hamilton and Verstappen. 'There is no chance,' laments Vettel, 'we are again too late. The tyres will not make it to the end.' He now looks to be falling into the clutches of the second Mercedes of Bottas.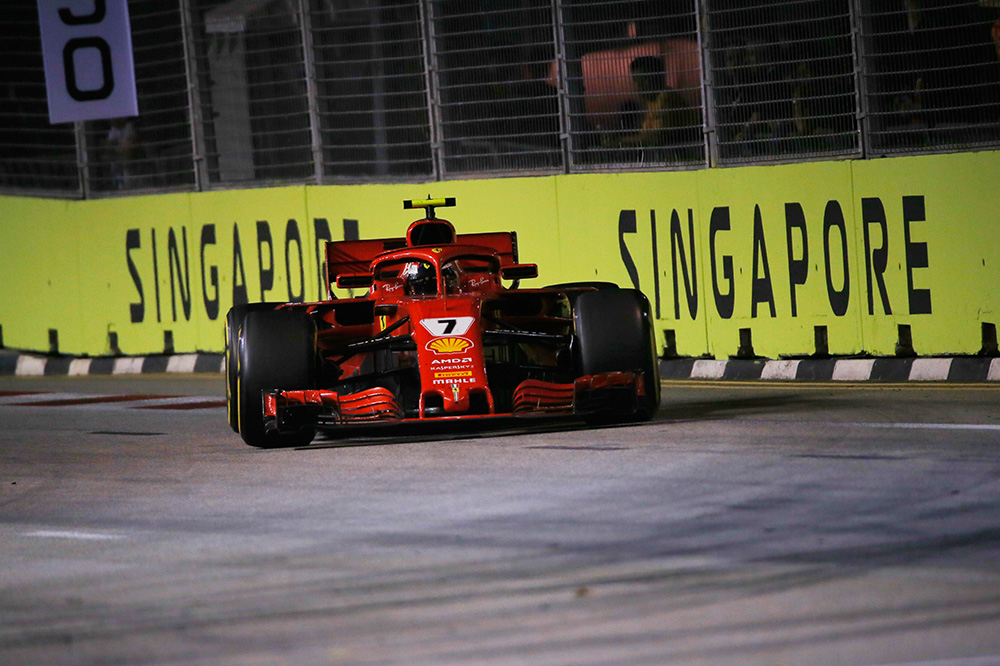 21: Räikkönen and Ricciardo are lapping within 1/100th of a second of each other as Ferrari tell Kimi the tyres are still okay. 'Yes, they're okay now but they might not be at any moment,' answers Kimi and he comes in next lap to go on to the Soft compound. So it looks as if the scarlet team is conceding that they got it wrong with their title challenger Vettel.
22: So Ricciardo leads and the prospect now arises that Red Bull could put him on to Ultrasofts; a disgruntled Perez wonders why the team has put him back out into traffic after he pitted from seventh position. Further back, two of F1's hottest properties, Leclerc of Sauber - soon the be Ferrari - and Gasly of Toro Rosso - soon to be Red Bull - are scrapping over ninth place.
24: Rain starts to fall as Ricciardo continues to circulate 7s in the lead but Danny Ric's engineer reassures him it will be only drizzle; the Aussie's pace, in the 1:46 bracket, is helping him manage the Hypersofts. Meanwhile Leclerc has won the Monaco-France battle and taken ninth place after Gasly locked up twice in quick succession. Gasly promptly pits.
27: Ricciardo in for Ultrasofts. He has made the Hypersofts last twice as long as forecast - what can he do on these? Hamilton is back in the lead by 4.5s from Verstappen, who is currently lapping a lot faster, then Vettel and Bottas. Perez is complaining loudly about being stuck behind Sirotkin's Williams in 14th.
29: Among those yet to pit, Alonso's McLaren is in a notable seventh position ahead of Sainz's Renault, Leclerc and Ericsson's Saubers and Vandoorne, also yet to stop. Race director Charlie Whiting has told Racing Point that Perez must be closer to Sirotkin before he will consider any action.
31: As half-distance is passed Hamilton is over 5s clear of Verstappen, who is 3s ahead of Vettel. There are similar gaps to Bottas and Räikkönen, then Ricciardo is 13s behind the Finn. And Perez is still behind Sirotkin as Hülkenberg's Renault closes in on the Mexican...
33: Then Perez attacks, the Racing Point and the Williams clash, and Checo slows dramatically before pitting. Sirotkin now has a queue behind him led by the Haas of Romain Grosjean.
36: Ricciardo is now on the attack and sets a new lap record of 1:43.853, just as Hamilton tells his team it feels as if his tyres are cold and not working very well - a thought borne out by the fact that he loses 1.7s to Verstappen, though that may also be due to back-marker traffic. 'On the cold side but it just means there's very little wear,' says Lewis's engineer.
38: High drama as Grosjean attacks Sirotkin, the Russian fights back and their squabble allows Verstappen to close right in on Hamilton. 'These guys are crazy,' complains Hamilton, Verstappen asks a more vulgar question and they are reminded that the back-markers too are racing. But did they ignore blue flags? Elsewhere Alonso, Sainz and Leclerc have pitted almost unnoticed.
39: Verstappen waves angrily at Grosjean as he passes the Frenchman; Perez picks up a drive-through penalty for causing the collision with Sirotkin; Ricciardo has halved the gap to Räikkönen; and Perez is once again right behind his Russian antagonist, this time getting past with no drama only to come in and serve his penalty.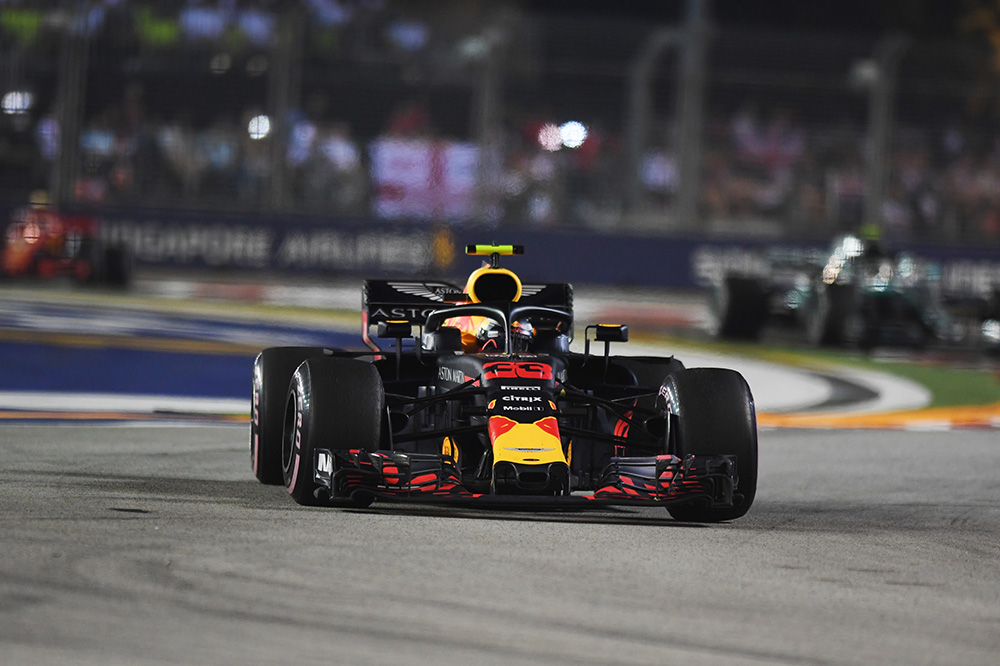 41: Ericsson and Vandoorne have still not made a stop, running eighth and 10th respectively...
43: Another fastest lap from Ricciardo, 1:43.652, as he chases Kimi for fifth place; Grosjean gets a 5s penalty for ignoring blue flags during his clash with Sirotkin; Vandoorne pits at last. Then Alonso lights up his final Singapore Grand Prix by lowering the lap record to 1:43.518.
45: Up front Hamilton is around 3.3s ahead of Verstappen as the gap yoyo's by a few-tenths each lap. That man Sirotkin is under investigation for a braking move against Toro Rosso's Hartley and earns a 5s penalty for forcing the Kiwi off the circuit. Sirotkin instantly pits for Hypersofts.
49: As Hamilton sets his personal best lap of the race Ricciardo sets a new lap record of 1:43.335 and is now just over 1s behind Räikkönen in the fight for fifth; Kimi is being told to ignore the brake alarm in his Ferrari and he is closing on compatriot Bottas's Mercedes.
51: Magnussen's Haas destroys the lap record with a 1:41.905 - but is second-last.
55: Hamilton now a comfortable 5.5s clear of Verstappen, with Vettel a distant third; Bottas in fourth is moaning about the Renault ahead of him as Räikkönen threatens.
59: Hamilton almost 7s clear; Ricciardo has backed off to save his tyres and is now attacking Räikkönen again as they both pursue Bottas for fourth.
61: Hamilton wins by 8.9 seconds from Verstappen, who is 20s ahead of Vettel. Bottas, Räikkönen and Ricciardo complete the top six.
Hamilton wins in Singapore for the fourth time, equalling Vettel
This is Hamilton's seventh win of 2018 and the 69th of his F1 career
He extends his World Championship lead to 40 points over Vettel
Verstappen's first Singapore podium