SINGAPORE GP TO HALVE ENERGY EMISSIONS FROM THE FORMULA 1 SINGAPORE GRAND PRIX BY 2028
The event's first carbon footprint report found that energy accounted for 96.1% of Circuit Park emissions.
Singapore GP plans to use hydrotreated vegetable oil (HVO) in half of the event's power generators by 2025, and 100% by 2028.
8 September 2023, Singapore - Race organiser Singapore GP Pte Ltd (SGP) will halve the energy emissions from the Formula 1 Singapore Grand Prix by 2028 by focusing on energy reduction, increasing the use of renewable energy sources, and utilising Renewable Energy Certificates1 (RECs) for unavoidable emissions.
The move follows SGP's first carbon footprint report, which found that total emissions in the Circuit Park amounted to 2,372 tCO2e2 in 2022. Energy use made up most of the emissions at 96.1%, while the remaining 3.9% resulted from transport, waste and water.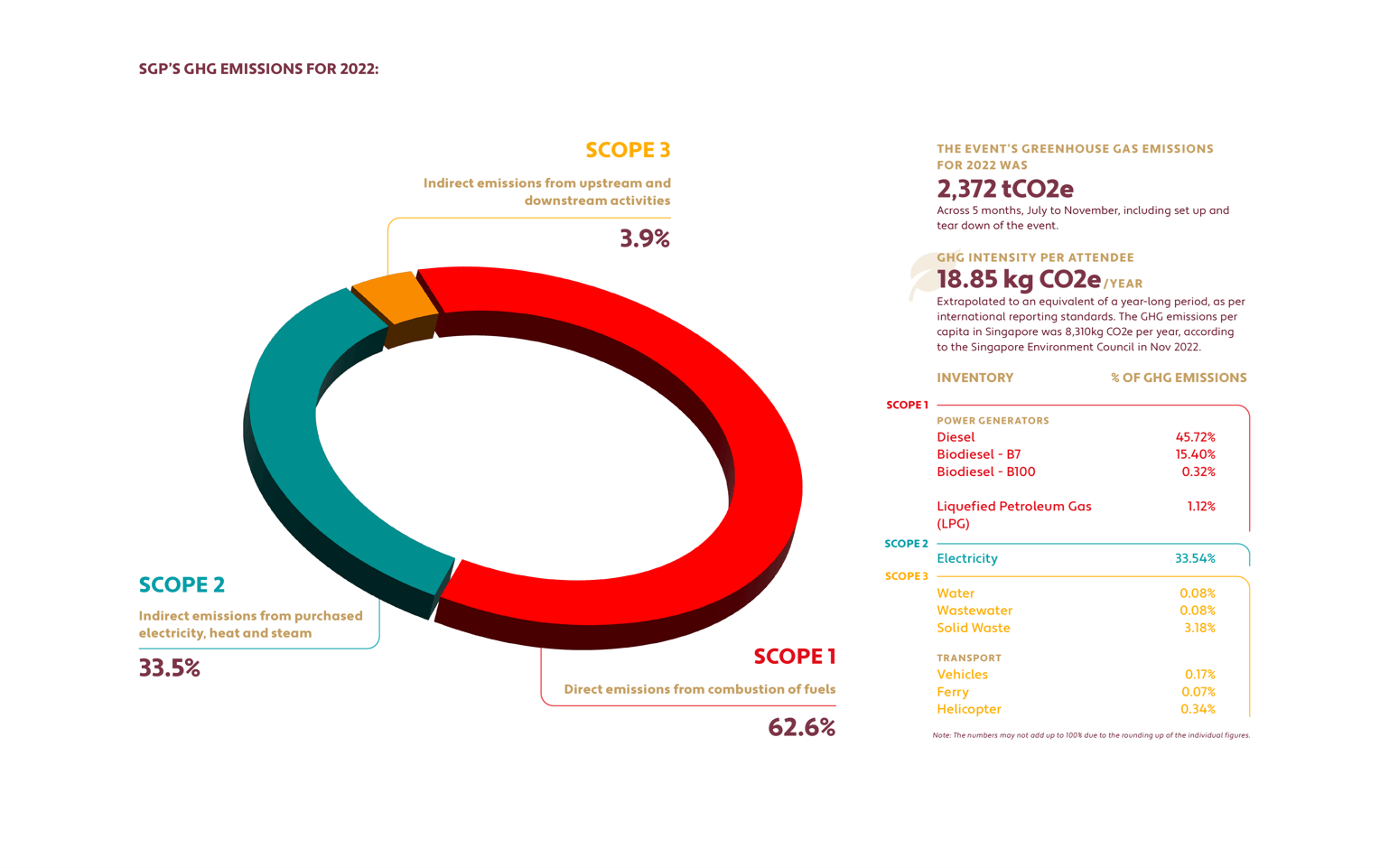 Energy at the forefront
Energy usage comprised 96.1%3 of greenhouse gas emissions in 2022. Consequently, SGP will focus its efforts on energy use — the area with the greatest potential for impact. To tackle emissions from power generators, Singapore GP will gradually phase out diesel, and increase the use of low-carbon fuel alternatives.
"We have adopted incremental sustainability measures since our debut in 2008, but with advancements in technology and the evolution of best practices, we now have an opportunity to do more," said Sasha Rafi, Director of Sustainability, SGP. "Equipped with data from our 2022 carbon footprint report, we have developed a roadmap that will allow us to meaningfully reduce emissions, with a distinct focus on energy use. These measures will be taken in tandem with Formula 1's global efforts to reach net zero by 20304."
The feasibility trial to substitute diesel fuel with renewable fuel such as Hydrotreated Vegetable Oil (HVO), will take place from this year. SGP will work towards implementing HVO in half its Circuit Park power generators by 2025, and all of its power generators by 2028. This initiative will reduce CO2e emissions by up to 52% when fully implemented. Where possible, the organisers will also adopt renewable energy to reduce emissions drawn from the electrical grid.
Earlier this year, the Singapore Tourism Board (STB) installed solar panels at the F1 Pit Building. The amount of electricity generated by these solar panels in a year is enough to power the building for an entire race month. 100% of the track lights are being replaced by energy-efficient LED lights, reducing electricity use by at least 30% than the previous metal-halide bulbs.
"Sustainability is a collective responsibility. We are committed to work with like-minded industry players to scale up in sustainability solutions and capabilities for the Singapore race. This is the start of our journey and we will continue to take steps towards our goal of becoming one of the most environmentally sustainable street circuits on the Formula 1 calendar," said Ong Ling Lee, Executive Director, Sports and Wellness, STB.
SGP will continue to utilise RECs to offset remaining unavoidable emissions. In 2022, it purchased RECs to cover 85% of its electricity consumption in the Circuit Park.
A holistic approach to sustainability
As F1 continues its efforts towards Net Zero by 2030, it has worked closely with all promoters and race organisers to provide guidance on best practice in several key areas alongside energy and carbon reduction, including recycling and reuse, local fan travel, wellbeing and nature, and local community. These are all areas SGP has shown strength in and will continue to develop.
While energy management will remain the cornerstone of SGP's sustainability drive, other measures to minimise the event's environmental footprint will also continue to be explored.
In 2023, SGP will roll out container toilets with enhanced water efficiency5 in the Circuit Park. Set to be deployed for the first time at a local event, these solar-powered toilets will save an estimated 129,600-litres of water over the three-day race weekend.
Other ongoing initiatives include the long-standing practice of collecting used cooking oil which saw 8,105kg of it recycled into biodiesel in the last five editions. In 2022 alone, this achieved at least 4,000kg of CO2e reduction. Last year, SGP also ceased sales of single-use plastic bottled water, which eliminated an estimated 160,000 single-use plastic bottles.
Given the nature of the street circuit, fans are also encouraged to travel to the event by public transport. The Circuit Park is served by six MRT (Mass Rapid Transit) stations that are within walking distance to the gates.
SGP will also endeavour to achieve additional standards to align its sustainability initiatives with industry benchmarks and maintain a high level of accountability. In 2022, it received a one-star rating for the Federation Internationale de l'Automobile Environmental Accreditation Programme. The F1 Pit Building has also been certified Green Mark GoldPlus by Singapore's Building and Construction Authority since 24 Feb 2022.
Collective effort for a sustainable future
SGP remains committed to actively involving patrons in minimising their environmental impact. It will continue to promote sustainable practices, such as utilising public transportation, and offer convenient water points to encourage patrons to bring their own reusable bottles.
SGP invites like-minded organisations to work together to share best practices and pilot sustainable measures, so as to foster collective impact that extends beyond its annual event.
All external vendors and contractors will also be required to pledge towards SGP's Environmental, Social and Governance commitments by 2025.
1 Renewable Energy Certificate is a type of Energy Attribute Certificate that represents the environmental attributes of the generation of a one-megawatt hour of energy produced by renewable sources. RECs can originate from wind, solar, biomass, hydropower, biogas, geothermal, and landfill gas projects.
2 From the sources of emissions within the Circuit Park's patron experiences zones: Zone 1 through to Zone 4 in the Circuit Park, and areas that are directly under SGP's purview and control. This excludes all freight, logistics and travel by Formula 1 and teams.
3 Power generators constituted 61.44% of all emissions, LPG represented 1.12%, and electricity drawn from the grid comprised 33.54%
4 https://www.formula1.com/en/latest/tags.sustainability.2Xv0Ky85GUqpD8aP9sgUwq.html
5 The previous portable toilets used a conventional pump-based system, where water for flushing and washing hands is stored in a water tank. The new toilets use a flow-based system, where fresh water will be drawn to the tap or flush only on-demand.
Factsheet: Sustainability Initiatives At The Formula 1 Singapore Airlines Singapore Grand Prix 2023.