F1 set for lights, cameras and action again at the Marina Bay Street Circuit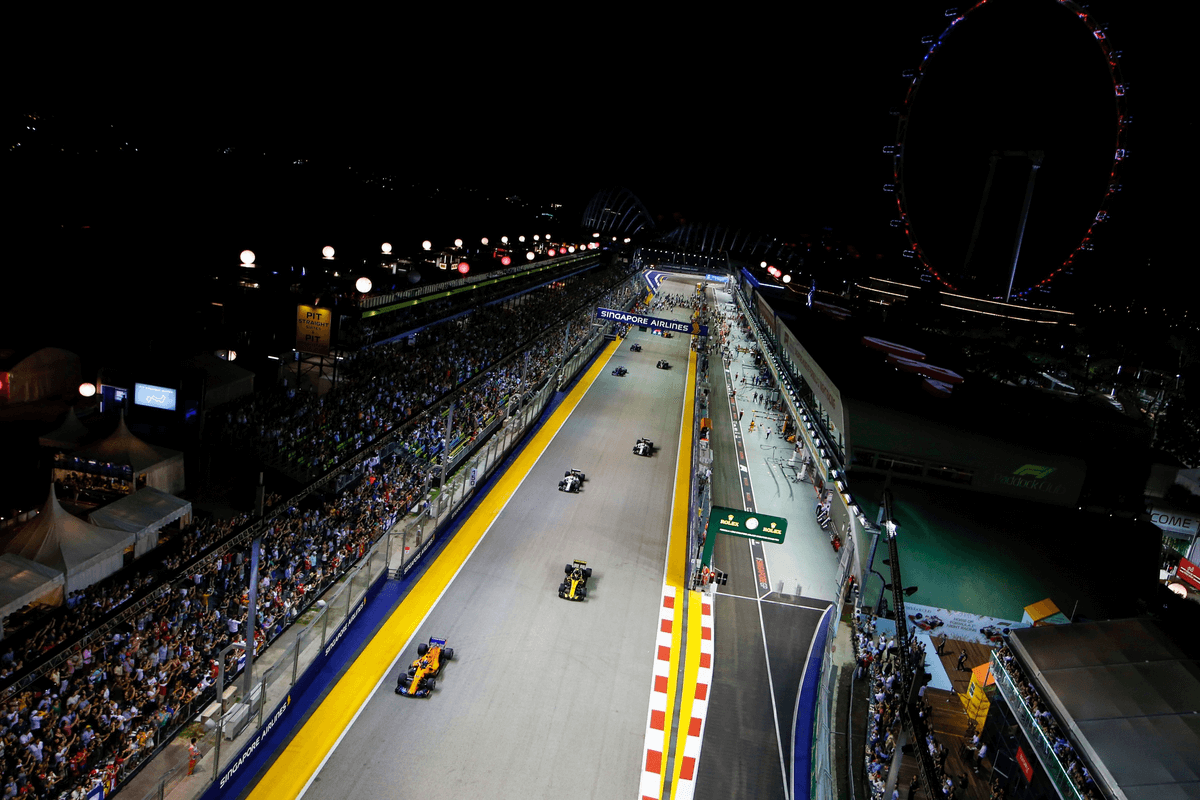 29 September 2022, Singapore - The stage is set and lit for the pinnacle of motorsport's thrilling return back on track at the home of Formula 1 night racing following a two-year COVID-19 forced hiatus. The action is set to start from Friday in preparation for this Sunday's 61-lap Formula 1 Singapore Airlines Singapore Grand Prix 2022.
The driver to beat will be reigning F1 World Champion Max Verstappen, with the Dutchman not just going for his sixth-straight race victory, and Red Bull's first at Marina Bay since 2013, but a second-straight title.
But, a lot has to go right for him to secure that crown, including at least the win, while rival Ferrari's Charles Leclerc must be in ninth or lower, and his Red Bull teammate Sergio Pérez – who is looking to become the first to win in Monaco and Singapore in the same season since 2011 – must be fourth or lower.
"It's important to have a good qualifying lap here so we'll be focusing on that,"
said Verstappen, who has scored 11 wins from 16 races so far this season, with just two more needed to equal the most wins in a single campaign record held by Michael Schumacher and Sebastian Vettel.
"It's very difficult to do a perfect lap here because of tight turns and how close the walls are. I don't really think about the Championship, I just want to have a positive weekend on track and take it race by race, there's no rush."
But, Italy's Prancing Horse will be hot on the Bull's heels, with Ferrari's Charles Leclerc going all-out to stay in the 2022 title hunt, and score his first win since Austria in July. The young Monégasque is 116-points behind Verstappen in the drivers' standings with six races to go, but hasn't been ruled-out just yet.
Like everyone in the F1 Paddock, Leclerc – and Ferrari teammate Carlos Sainz – will stay on European time while in Singapore to stay sharp at night, making the transition easier, but he will have to battle the hot and humid conditions that mean a lapse in concentration can lead straight to a date with the barriers.
"We have made some positive progress and were more competitive [in Monza], so I am looking forward to be back racing in Singapore," Leclerc said following the last race, the Italian Grand Prix.
Reigning F1 World Constructors' Champions Mercedes are hoping for stronger results, with the Marina Bay Street Circuit set to suit its W13 more than power track Monza that preceded its trip to Asia.
"I think we expect Singapore to be a bit more like we've seen in Budapest [Hungary] and Zandvoort [The Netherlands]," said Mercedes' technical director Mike Elliott. "It's a bumpy circuit, which is going to provide its challenges, but in terms of the nature of the corners we think it'll be a bit better for our car."
That, along with the potential for showers throughout the weekend could see a chance for the Silver Arrows, which are on-course for their first winless season since 2011. Seven-time F1 World Champion Sir Lewis Hamilton, and teammate George Russell, have far from given-up, though.
"Even though I know it's going to be an incredibly difficult weekend from our perspective, sat inside of that car and sweating it out on one of the toughest circuits of the year, I feel like that gives us an opportunity to try and beat our rivals," Russell said. "So, I'm really excited for the weekend and I think we've made a lot of progress."
Behind the top three teams, the fight for success is just as intense with Alpine and McLaren battling for fourth place, as "best of the rest," and just 18 points between them with six rounds to go.
McLaren has a striking new livery for the season's Asian leg in Singapore and Japan, care of sponsor OKX, and will no doubt feature tweaks to the MCL36 to keep the heat on its French rival.
Alpine, which leads the fight, has also brought upgrades and has the results to show as well with five double points scores from the last six races.
"We are bringing an entire new floor to both cars this weekend, which will also carry over to Japan," said Alpine's chief technical officer Pat Fry.
"Visually, on the surface, [the floor is] not much different to the previous version as most of the developments are underneath. It should bring a reasonable step in performance, though."
Behind Alpine and McLaren is a white-knuckle fight for sixth place with four F1 teams in contention for the result, including Alfa Romeo (52 points), Haas (34), AlphaTauri (33) and Aston Martin (25), and consistent point scoring the simple way to make it happen.
"We are one point behind seventh place in the Constructors' so our goal over the last six races this year has to be to at least move up as much as possible, and it's looking very tight," said AlphaTauri's Pierre Gasly, who has been one of the top midfield drivers of the past few seasons.
"It's not impossible for us to catch Alfa Romeo for sixth [place], but it might be complicated and depend on us having a really great end to the season."
Across at Williams, which sits 10th in the standings, Alex Albon is preparing for his race return in the aftermath of respiratory failure after appendicitis forced him to sit out the last race in Italy. Nyck de Vries proved an outstanding stand-in at Monza, with points on his last-minute F1 debut, and remains on standby to race alongside Nicholas Latifi should Albon need more time to recover.
All in all, there's a lot on the line – for all 10 teams – as they prepare to thread the barriers at high-speed once again for the 13th edition of the sport's original night race, the Formula 1 Singapore Airlines Singapore Grand Prix 2022.