F1 Insights
Get the lowdown on what's new in Formula One, go back-to-basics with exclusive #F1Insights by our guest writers, and get tips from industry experts from the Formula One fraternity. Got a suggestion on what you'd like to see here? Write to us at info@singaporegp.sg.
Perfect Shot
Posted on 12 September 2018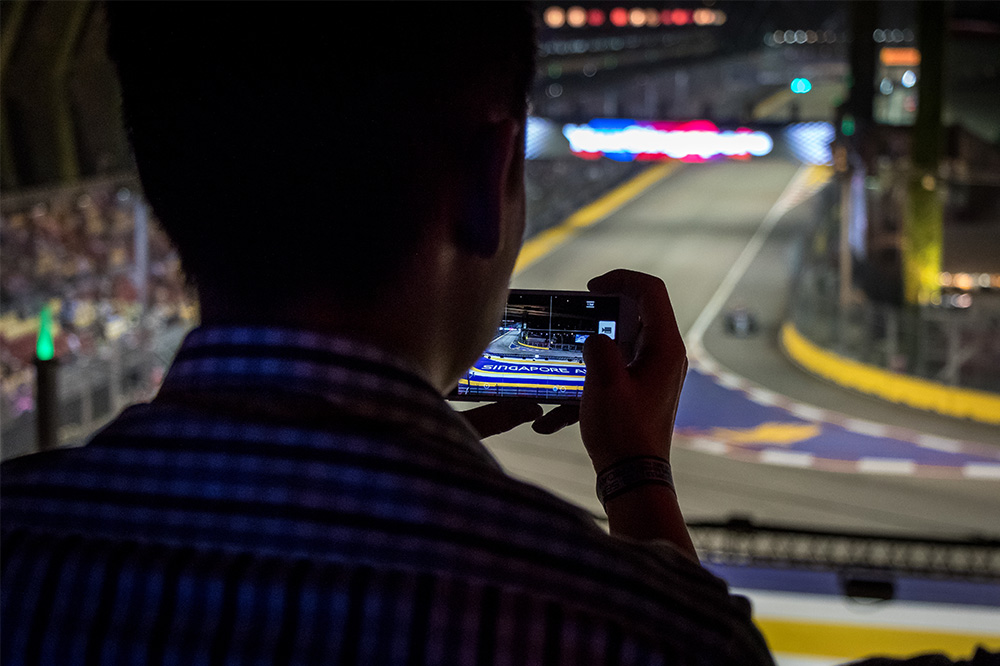 The Formula 1 Singapore Grand Prix was almost made for Instagram. We caught up with top F1 photographer Steven Tee for how to capture the best of the event armed just with a smartphone.
There's no doubt that Singapore's Marina Bay is a stunning place for a race, with the Formula 1 Singapore Grand Prix one of the most photogenic events in world sport. F1's original night race a spectacular view any way you look at it…
However, while anyone can take great snaps with a smartphone, and share them instantly with the world on social media (using #SingaporeGP), taking next-level pics at the event just takes some practice and a few tips from the pros.
Enter the legendary Steven Tee, managing director of F1 photo agency LAT, and one of the sport's top photographers, who knows all the best places to get shots throughout the Circuit Park.
"I love shooting F1 in Singapore, it is one of my very favourite races," Tee says.
"I've always enjoyed street races, and when you add the day and night element to the stunning setting of downtown Singapore, it is difficult not to get great shots."
And while Tee is a master of capturing the sport in all its glory, using DSLR gear, below are his five tips for fantastic shots using just your phone at the Formula 1 2018 Singapore Airlines Singapore Grand Prix.
Tip 1:
"Don't think that you are too far away, shoot loose and try and show the whole scene from your chosen seat position."
Tip 2:
"It is possible to get close to the cars around the track with a general admission ticket, and the final two or three corners are great for this. Do not think of the walls and fences as an obstruction, simply use them as a way of showing how close the cars come to them, and you!"
Tip 3:
"Good photos can be taken of the drivers as they arrive each day at track. Hang out around the main entrance to the paddock a couple of hours before the first practice time, and the drivers will all come past you."
Tip 4:
"If you have a seat in the Turn 1 Grandstand, you can get a great start photo. The photographers start position is in that grandstand, so you will get a similar angle to us. Again don't obsess with getting only the cars, shoot a wider shot, and get the whole scene in."
Tip 5:
Get a bird's eye view! Zone 1 patrons have free access to the iconic Singapore Flyer throughout the race weekend. Go on the 165m high observation wheel, where you can enjoy a superb overview of the track especially the starting grid and finish line. "Great pics can be taken at night of the track ribboning around the city lit up by the floodlights," Tee says.
The FORMULA 1 2018 SINGAPORE AIRLINES SINGAPORE GRAND PRIX will be held from September 14-16, with tickets available at singaporegp.sg.