F1 Insights
Get the lowdown on what's new in Formula One, go back-to-basics with exclusive #F1Insights by our guest writers, and get tips from industry experts from the Formula One fraternity. Got a suggestion on what you'd like to see here? Write to us at info@singaporegp.sg.
362 days and the Singapore Formula 1® weekend – Entertainment Operations edition
Posted on 11 July 2018
With over 15 combined years in the entertainment industry working on more than 55 large-scale concerts and festivals, both Singapore GP's Senior Operations Executive Patrick Chan and Entertainment Executive Sarah Lu know to always expect the unexpected. As part of the Entertainment Operations team, it's their responsibility to ensure patrons are kept entertained between the on-track race action, and artistes are well taken care of from arrival to departure.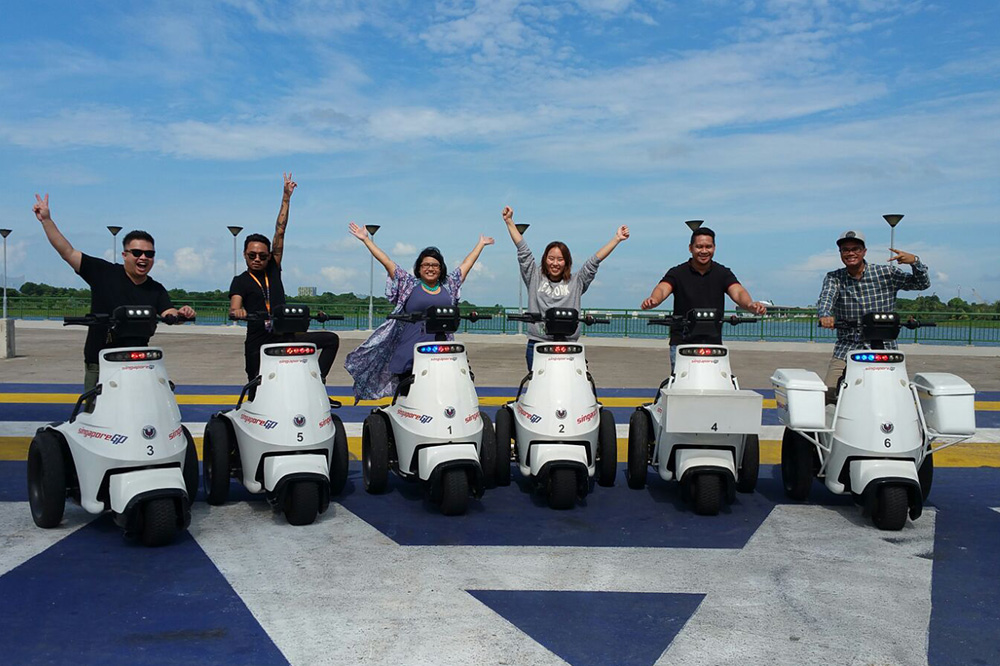 Senior Operations Executive Patrick Chan (2nd from Left) and Entertainment Executive Sarah Lu (4th from Left) with part of the Entertainment Operations team.
Tell us about your day-to-day responsibilities pre-race?
SARAH – We start planning the entertainment grid at least a year ahead, even before the previous race has ended. With over 150 entertainment acts to secure, exciting concept areas to curate across the entire Circuit Park for 3 days…we have to do a lot of research! It's like completing a puzzle, filling in slots, making sure that no matter where a patron is, there is always something to do, see and enjoy – it's not as easy as it seems!
Training is also key and a big part of what we do. We need to be sure that our crew are sufficiently equipped with the knowledge and skills to navigate the event site, to ensure they are comfortable in their tasks and have the relevant know-how to manage people and unexpected situations.
PATRICK – Once we confirm our full line-up, the groups are then split among the team, and we interface directly with an average of 15-18 artiste groups to ensure everything pertaining to their engagements with us are taken care of – from hotel and transport arrangements, call times for rehearsals/sound-checks and performance days as well as any special requirements or questions that they may have in the lead up to the race weekend.
What are the top three things you look for when selecting an act for the event?
SARAH + PATRICK - We are a multi-faceted event that's jam-packed with content so we often place ourselves in the shoes of a patron who is walking through the site deciding where to go next. Key considerations would be:
Their live performances should draw a crowd, to make one want to stick around and listen to more.
Their performances should be engaging from start to end, and appeal to patrons of all ages.
They should bring something unique and entertaining to the table.
We are a night race, but the Circuit Park opens in the afternoon so our performers must be able to transition well from day to night.
With the Marina Bay as your playground, how do you mange the space effectively for fringe entertainment?
SARAH - We walk around the site…a lot. We stare at maps a whole lot too. Each area comes with its own set of challenges and constraints, so a lot of planning goes into curating a concept and making it work for a crowd in the space provided. We always take feedback into account, and look back at past editions to see how we can make the experience even better for patrons each year.
PATRICK - In 2017 a new Grandstand was introduced at Empress Lawn. We were then tasked to think a way to activate the space effectively. Taking advantage of the picturesque setting of the lawn, we curated an intimate performance stage featuring some acoustic acts from around the world along with a larger than life theatre production; Spheres by Melbourne-based performing arts company Strange Fruit. This gave patrons in that area good reason to stick around the lawn in between races and made for many photo-ready moments.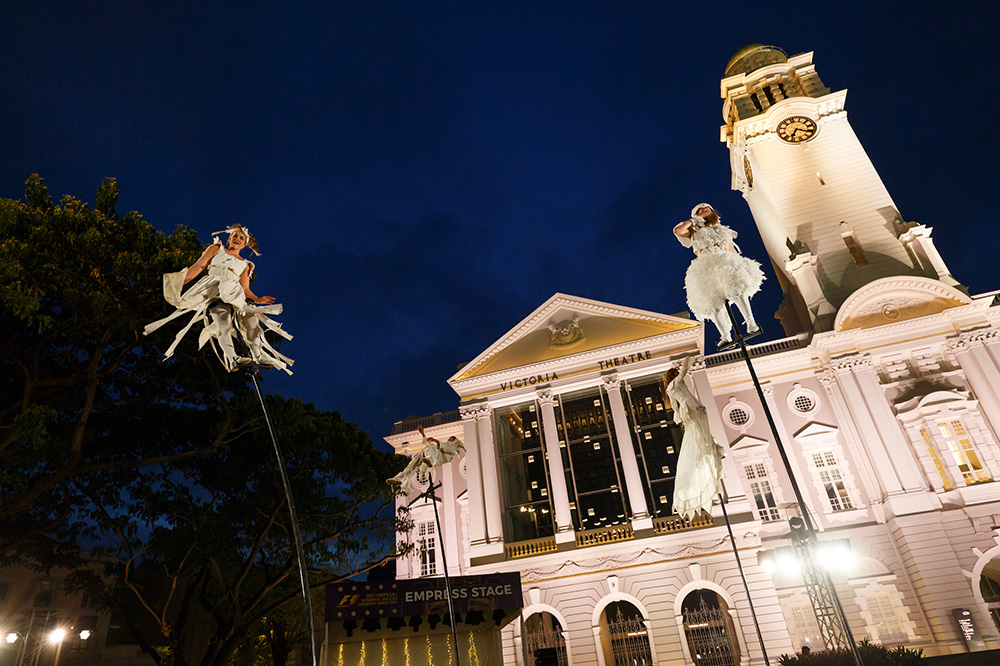 Australian arts company, Strange Fruit put on a whimsical acts, Spheres, against the backdrop of the Victoria Theatre.
Any funny or weird requests that you've had to manage?
SARAH + PATRICK - We've gotten very interesting requests over the years. Some of the memorable tasks we've had to accomplish:
Arrange for a manicurist to make a personal visit to our artiste backstage area to repair a broken nail.
Source for an authentic Chinese Emperor's Costume with matching royal throne/chair.
Create a completely white dressing room – from décor to furniture, fittings etc.
Engage a babysitter for an artiste who was travelling with an infant.
Source for the hottest Hot Sauce.
People are surprised when I tell them I also do this…
PATRICK - Curate the background music for most of the stages, and occasionally pre-record special announcements for crowd control, waste management, etc.
SARAH - Whatever it takes to dress up the stage - assembling light fixtures, steam ironing flags and even planning the landscape.
See what they're up to this year – click here to check out this year's entertainment highlights!